Beautiful beaches, crystal clear freshwater springs, and fresh-squeezed orange juice. Florida is a beautiful state, with tons to see and do!

However, Florida also has one of the highest Car Insurance rates in the nation. Why is Florida auto insurance so expensive?

Florida's rates are among the highest in the nation for several reasons, but primarily because of it's a no-fault state. Residents are required to pay their own expenses during any accident and need to maintain Personal Injury Protection coverage to cover it. It's a bummer though because many Floridians are also covered for accident-related medical expenses through their health insurance, so many of us will be paying for the same thing twice.

The state has enforced this no-fault auto insurance plan since 1971 and the intention was to reduce lawsuits. Ironically enough, though, the number of legitimate and fraudulent Personal Injury Protection claims began skyrocketing in 2008 and still continues to rise. A 2012 reform attempted to clamp down on fraudulent claims, but the results have been controversial. A bill to repeal the no-fault requirement was filed in 2017, and if it passes our rates could drop by an average of $81 a year, according to one study. But that remains a big "if."

Aside from no-fault insurance, Florida is the nation's leader in careless driving accidents and logs more fatal crashes than any other state, with the exception of only Texas and California. According to the National Highway Traffic Safety Administration, there were 3,174 fatal accidents in Florida in 2016, the most recent data available. Add in some subtropical weather and a number of elderly drivers, and it's easy to see why Florida's auto insurance premiums are higher than the national average. See below chart how Florida compares with the rest of the nation.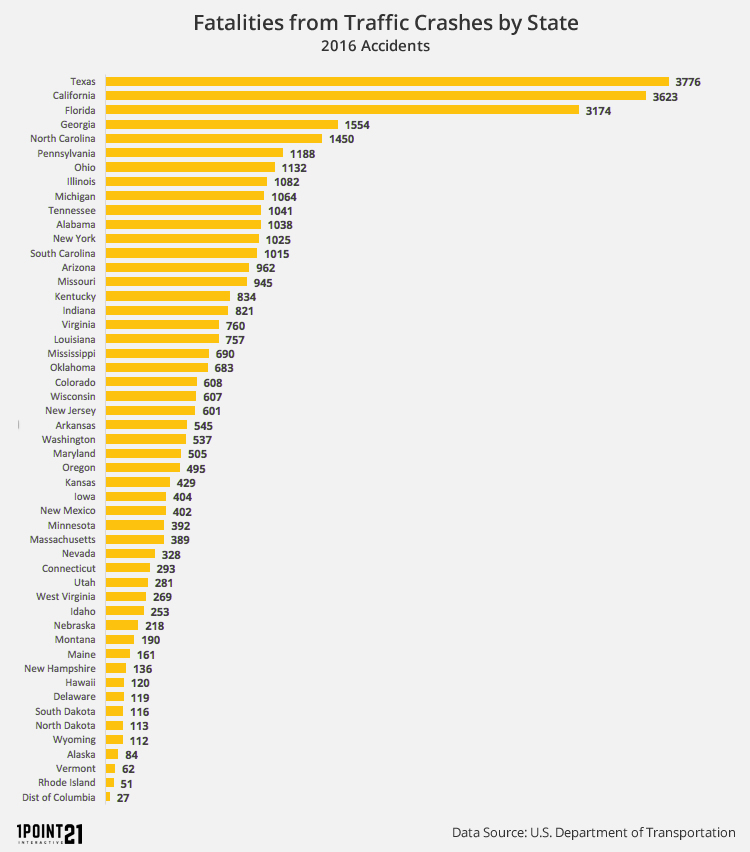 Now, how can you save money? The factors that influence how much car insurance companies will charge you include your age, marital status, driving history, and even your ZIP code. Sometimes, we've seen neighboring zip codes have drastically different rates! On top of that, each insurer weighs those factors differently. So the best strategy for finding cheap car insurance will always be to compare quotes — and I'd suggest getting at least five. Alternatively, you could call an Independent agent. Here at Star Nsurance, we always quote our clients out through 40 different carriers, to make sure we are finding you the best rate. Below is a chart showing what factors cause the rates on Car Insurance policies in Hillsborough County, FL.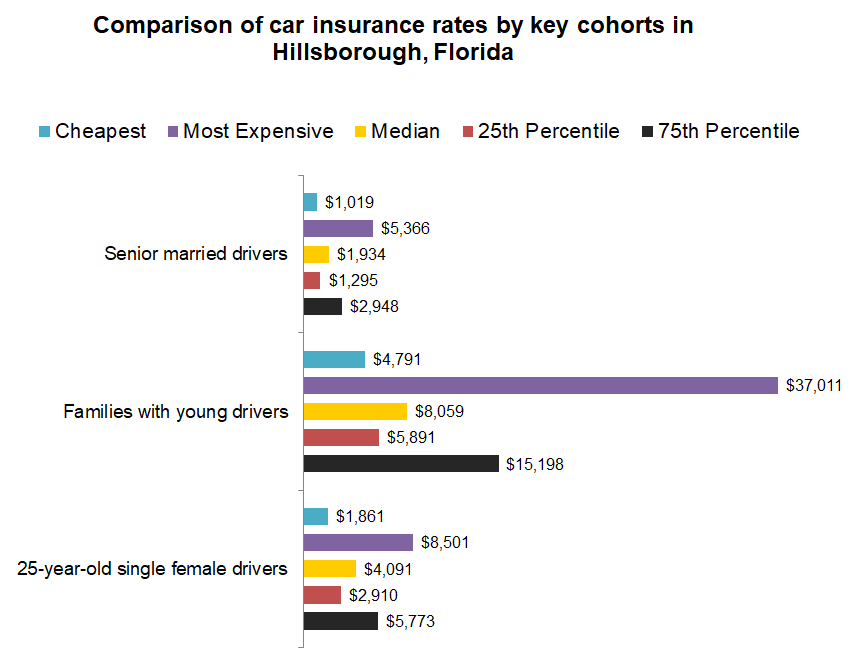 As you can see from the chart, having a new driver in the household will always increase your rate. Here is some information on new drivers:

The Florida DHSMV requires every Florida driver to be licensed. To become licensed, applicants must first pass a vision screening and written test. Next comes a road test, and then applicants must pay applicable fees.

Vision Screening:
An applicant must have visual acuity of 20/40 with or without corrective lenses. Anyone with visual acuity of 20/50 or worse will be referred to a specialist for improvement, but visual acuity of 20/70 may pass if the worse eye is 20/200 or better and verification is required by a specialist.

Written Test:
The exam tests the applicant's knowledge of the Florida Driver's Manual. It consists of 40 multiple-choice questions regarding road rules and 10 questions regarding specific traffic signs.
Road Test :
The vehicle, provided by the applicant, must be insured, registered and safely operable. A licensed driver is required to drive the vehicle to and from the testing site.
The applicant will be tested in several areas, including but not limited to turns, gear shifting (if applicable to the vehicle), parking, stopping, backing, obeying traffic signals and signs, passing, lane management and following distance.

Fees:
A regular driver's license requires the applicant to pay a $48 fee.
Applicants at least 15 years old can obtain a Learner's Permit, and applicants ages 16 and 17 who have held a Learner's Permit for one year with no violations can obtain an Intermediate License. Specific requirements are in place for obtaining either a learner's permit or an intermediate license, and driving restrictions apply for holders of either one.
IMPORTANT: When calling any company, you want to make sure you are adequately covered, so make sure the policy offers sufficient coverage to keep you in line with the law.
Minimum Requirements for Car Insurance in Florida
The Florida Department of Highway Safety and Motor Vehicles (DHSMV) states that liability coverage is mandatory for all vehicles registered in the state.
Liability Coverage minimums:
Personal Injury protection coverage helps cover costs if someone receives an injury as a result of an accident. Personal injury costs can include medical expenses as well as lost wages.
$10,000 property damage liability coverage.
If a driver fails to maintain current insurance coverage, the DHSMV can suspend driving privileges and vehicle license/registration for up to 3 years. A reinstatement fee ranging from $150 to $500 will be required depending on the number of subsequent offenses. Don't risk driving uninsured!
Shopping around for quotes on Car Insurance in Florida, is not something that is not very fun, and can be extremely time-consuming. Expect to spend 10-20 minutes on the phone or online with each company, repeating the same basic information. You'll probably have most of the general information committed to memory, but there are few things you might need to pull from your vehicle, like it's make, model, specific add-on packages, and average annual mileage you drive it. After that, you'll choose the coverages you want, and have yourself a price! (And if you really want to knock 'em out, grab your vehicle's VIN number that is listed on your proof of insurance — it'll save time both on the phone and online.)

Remember, the high rate may have nothing to do with you individually. it could be that your insurance company simply raised its rates due to claims or market experience. There are plenty of other insurance companies out there. Just because your current insurance company is too high doesn't mean that another insurance company won't be able to save you some money! Here at Star Nsurance, we offer free quotes. Take a few minutes and see if we can find you a cheap rate.
Call us today. 813-563-5577